As architects, artists, and educators, we draw on our Californian histories. Identity, community, and especially belonging are important to us in the spaces we design and the processes we use to create. This collaborative and collective vision, combined with access to each of our cultures and families, let us draw from a larger pool of viewpoints and perspectives.

We use a collective model, thriving on collaborations.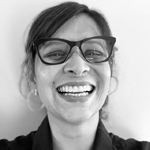 Sameena Sitabkhan, Principal RA NOMA
A first generation Indian American architect who grew up in Los Angeles, Sameena Sitabkhan brings an expertise and emphasis on community based thinking and spatial justice. A competent project architect , she has designed and managed projects spanning a range of public serving building typologies from schools , affordable housing to urban/art installations throughout the Bay Area over the past 15 years. She was previously an Associate at David Baker Architects, focused on housing for the formerly homeless and has completed charter schools and and public school ground up buildings throughout California. As the Director of the Building Lab (B.Lab) Program at the Academy of Art in SF, she has led students to engage, design and build in underserved neighborhoods in the Bay Area through a robust participatory model with neighbors, local youth, city agencies and non profits. This experience led her to found Studio Sideproject with 2 like minded collaborators to create at the intersection of narrative, design and advocacy in the built environment.

Tammy Ho, Principal
Tammy is a first generation Chinese American designer from the SF Bay Area. She has designed and managed a wide range of built work including high end hospitality, retail and single family residences. She previously worked with Bestor Architecture in Los Angeles and Christopher Deam Architects in Marin on all aspects of residential and retail work including interior renovations to ground up construction. For over ten years Tammy worked on international projects as a principal at Kupa Studios in Beijing, China. Her projects have been published in Dwell Magazine, Casa Abitare, and the Los Angeles Times. With a background in dance, she often thinks about architecture as a choreographed story, focused on moments in the built environment. As a principal at Studio Sideproject, Tammy brings this experiential focus to the team.

Doron Serban, Principal
Born in Tel Aviv, he grew up in Switzerland before moving permanently to the United States in 1987. He is a full-time faculty member and the Emerging Technologies Coordinator at the Academy of Art University School of Architecture in San Francisco, CA, where he coordinates the B.Arch digital curriculum, teaches a design studio focused on homelessness and social equity and seminars in 2D/3D media, color theory, fabrication, and storytelling. In his personal practice, he is in year 6of a 10-year daily doodle project, consisting of creating a new work of art every day, ranging from renderings, to drawings, installations and music compositions. He received his graduate degree in architecture from Syracuse University's School of Architecture and his undergraduate degree in music from the University of California, Riverside.
OHLONE TERRITORY | OAKLAND CA